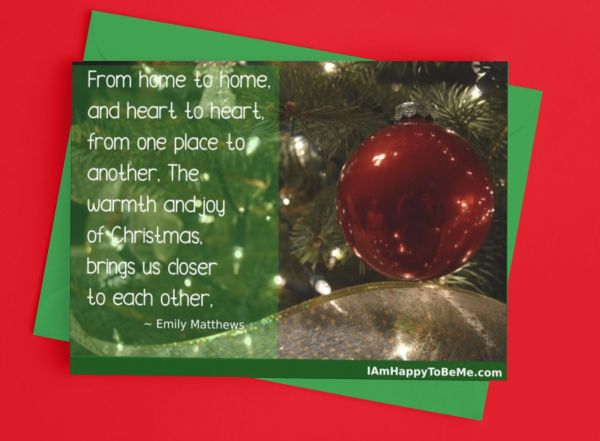 From home to home, and heart to heart, from one place to another. The warmth and joy of Christmas, brings us closer to each other.
~ Emily Matthews ~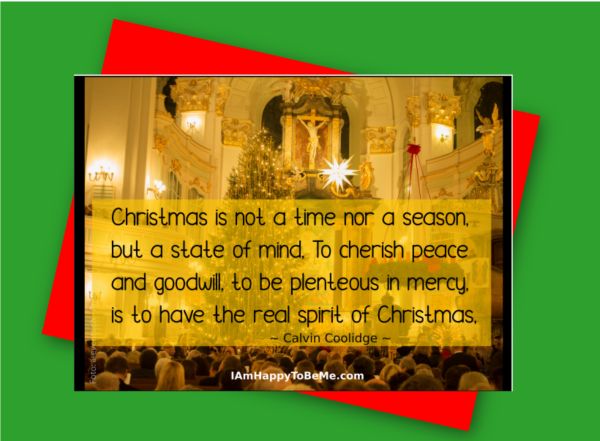 Christmas is not a time nor a season, but a state of mind. To cherish peace and goodwill, to be plenteous in mercy, is to have the real spirit of Christmas.
~ Calvin Coolidge ~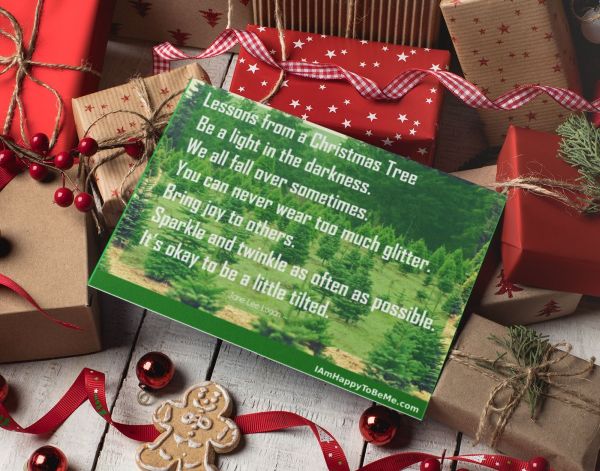 Lessons from a Christmas Tree
Be a light in the darkness.
We all fall over sometimes.
You can never wear too much glitter.
Bring joy to others.
Sparkle and twinkle as often as possible.
It's okay to be a little tilted.

~ Jane Lee Logan ~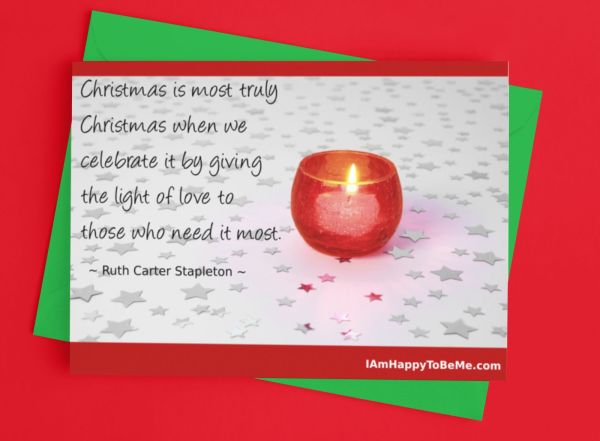 Christmas is most truly Christmas when we celebrate it by giving the light of love to those who need it most.
~ Ruth Carter Stapleton ~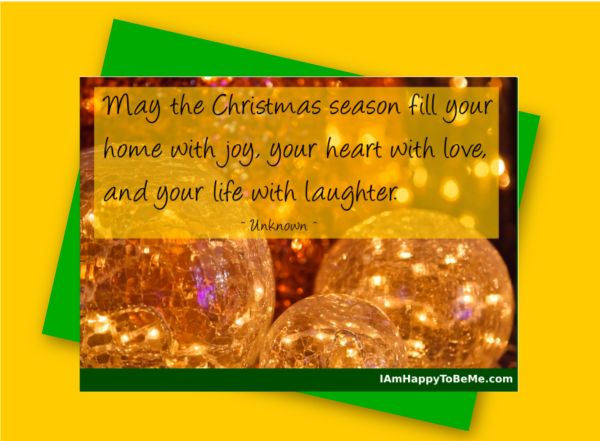 May the Christmas season fill your home with joy, your heart with love, and your life with laughter.
~ Unknown ~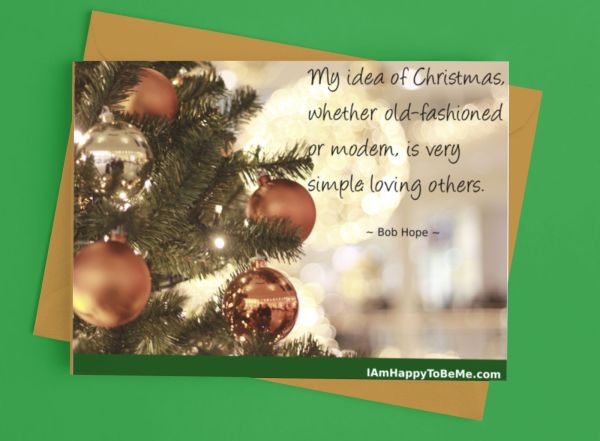 My idea of Christmas, whether old-fashioned or modern, is very simple: loving others.
~ Bob Hope ~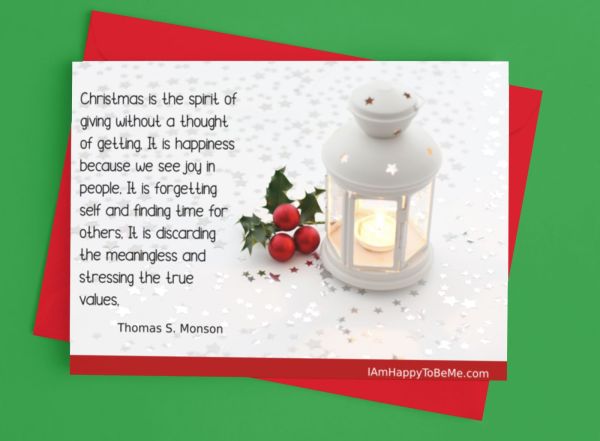 Christmas is the spirit of giving without a thought of getting. It is happiness because we see joy in people. It is forgetting self and finding time for others. It is discarding the meaningless and stressing the true values.
- Thomas S. Monson ~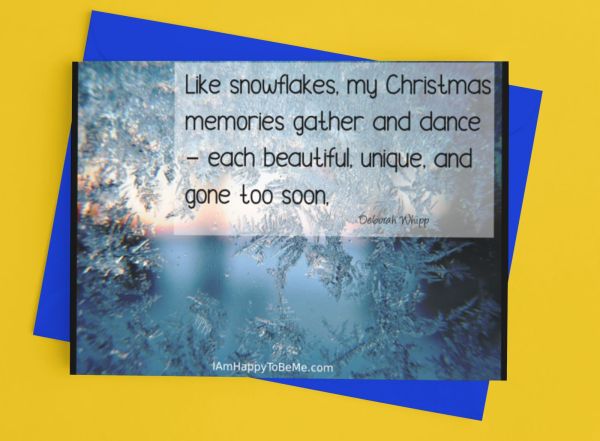 Like snowflakes, my Christmas memories gather and dance – each beautiful, unique, and gone too soon.
~ Deborah Whipp ~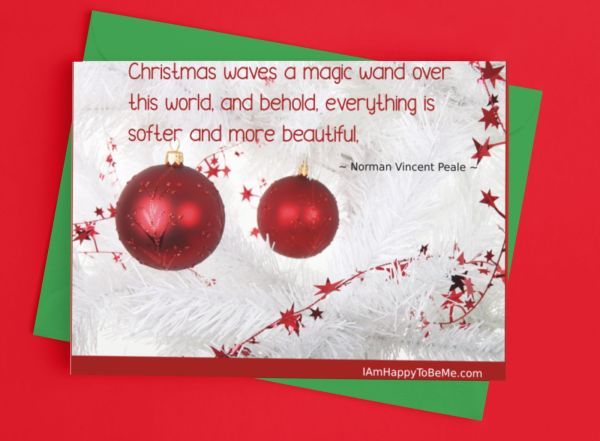 Christmas waves a magic wand over this world, and behold, everything is softer and more beautiful.
~ Norman Vincent Peale ~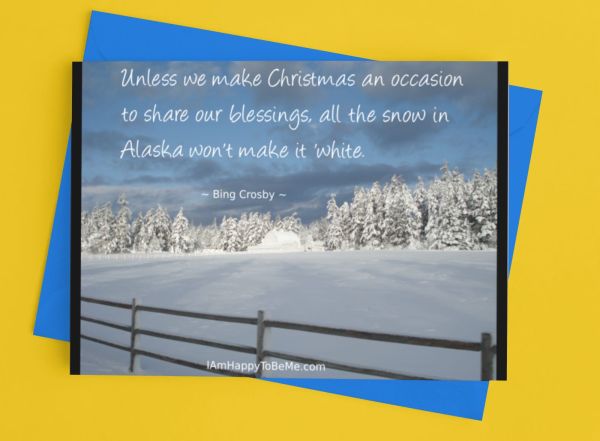 Unless we make Christmas an occasion to share our blessings, all the snow in Alaska won't make it 'white.
~ Bing Crosby ~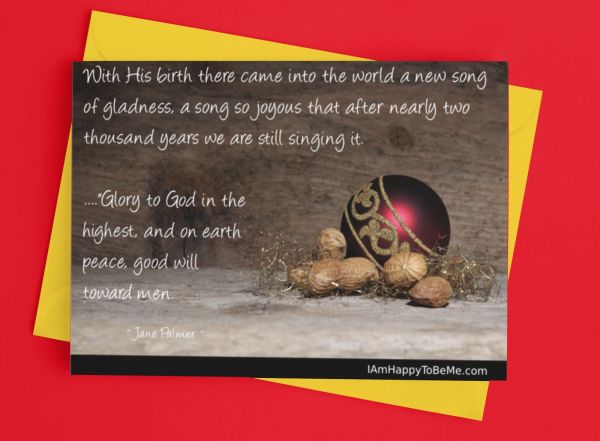 With His birth there came into the world a new song of gladness, a song so joyous that after nearly two thousand years we are still singing it. ...."Glory to God in the highest, and on earth peace, good will toward men.
~ Jane Palmer ~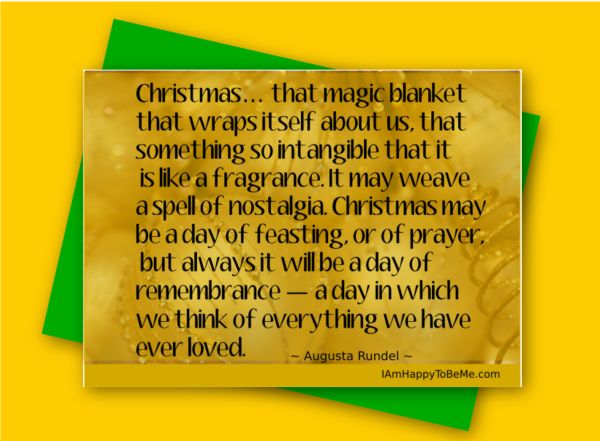 Christmas… that magic blanket that wraps itself about us, that something so intangible that it is like a fragrance. It may weave a spell of nostalgia. Christmas may be a day of feasting, or of prayer, but always it will be a day of remembrance — a day in which we think of everything we have ever loved.
~ Augusta Rundel ~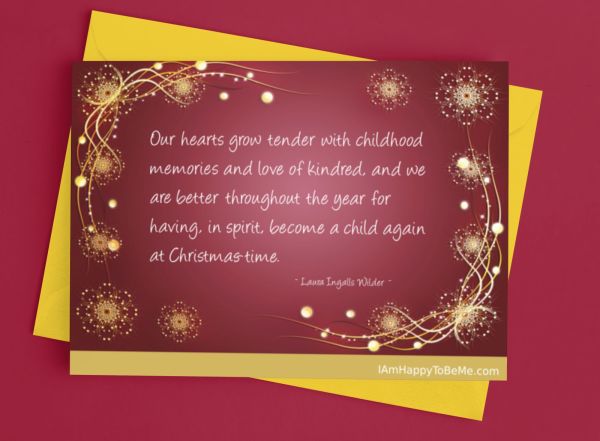 Our hearts grow tender with childhood memories and love of kindred, and we are better throughout the year for having, in spirit, become a child again at Christmas-time.
~ Laura Ingalls Wilder ~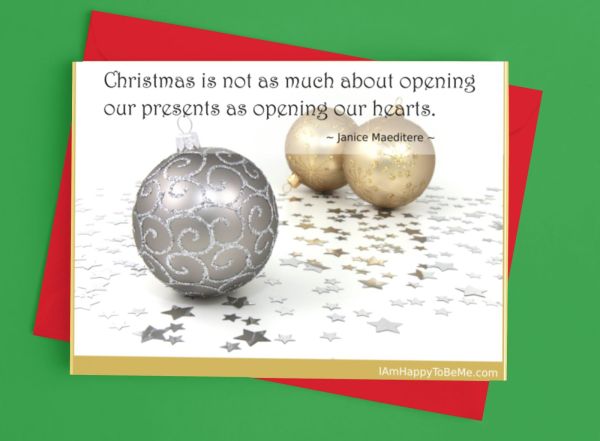 Christmas is not as much about opening our presents as opening our hearts.
~ Janice Maeditere ~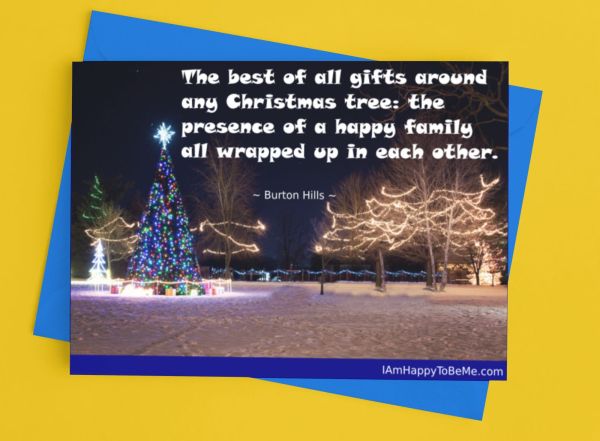 The best of all gifts around any Christmas tree: the presence of a happy family all wrapped up in each other.
~ Burton Hills ~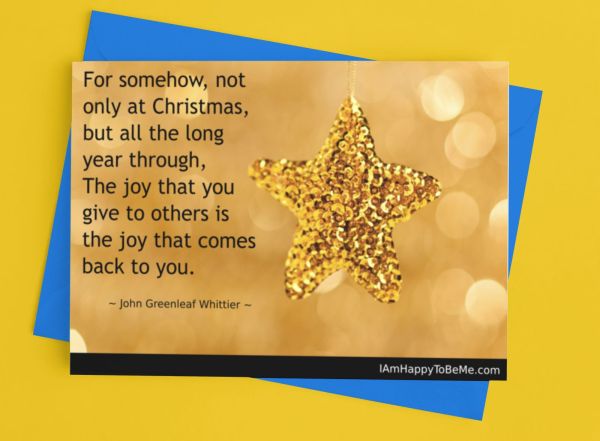 For somehow, not only at Christmas, but all the long year through,The joy that you give to others is the joy that comes back to you.
~ John Greenleaf Whittier ~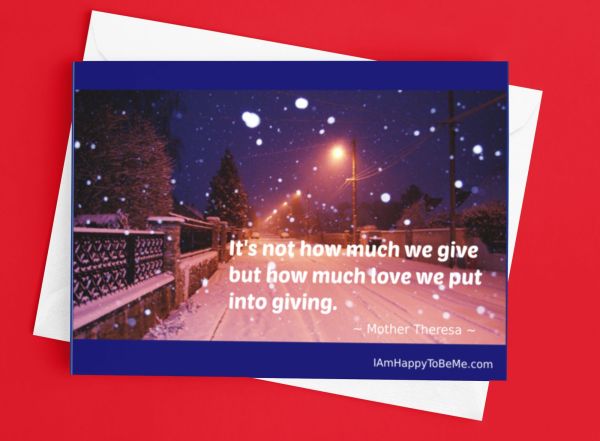 It's not how much we give but how much love we put into giving.
~ Mother Theresa ~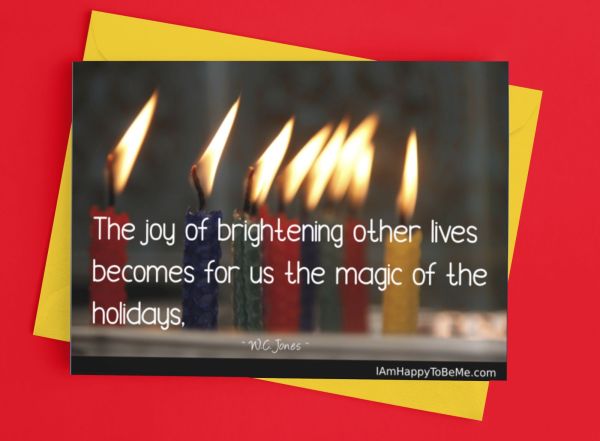 Christmas is a necessity. There has to be at least one day of the year to remind us that we're here for something else besides ourselves.
~ Eric Sevareid ~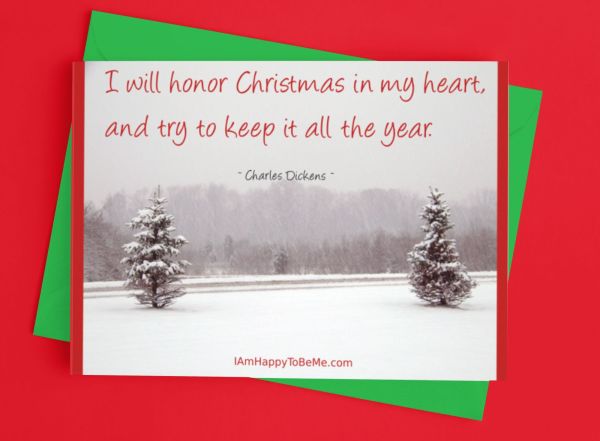 The joy of brightening other lives becomes for us the magic of the holidays.
~ W.C. Jones ~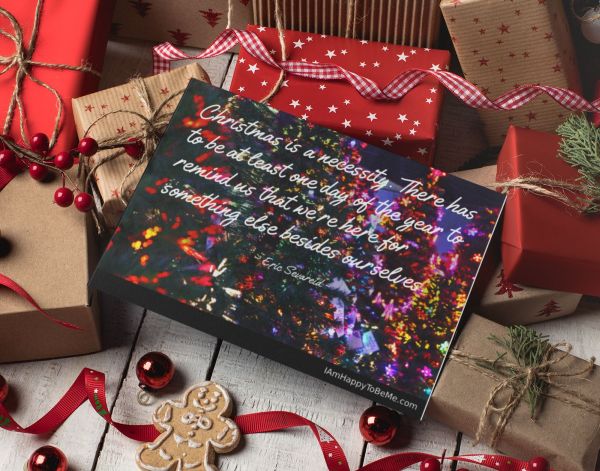 I will honor Christmas in my heart, and try to keep it all the year.
~ Charles Dickens ~